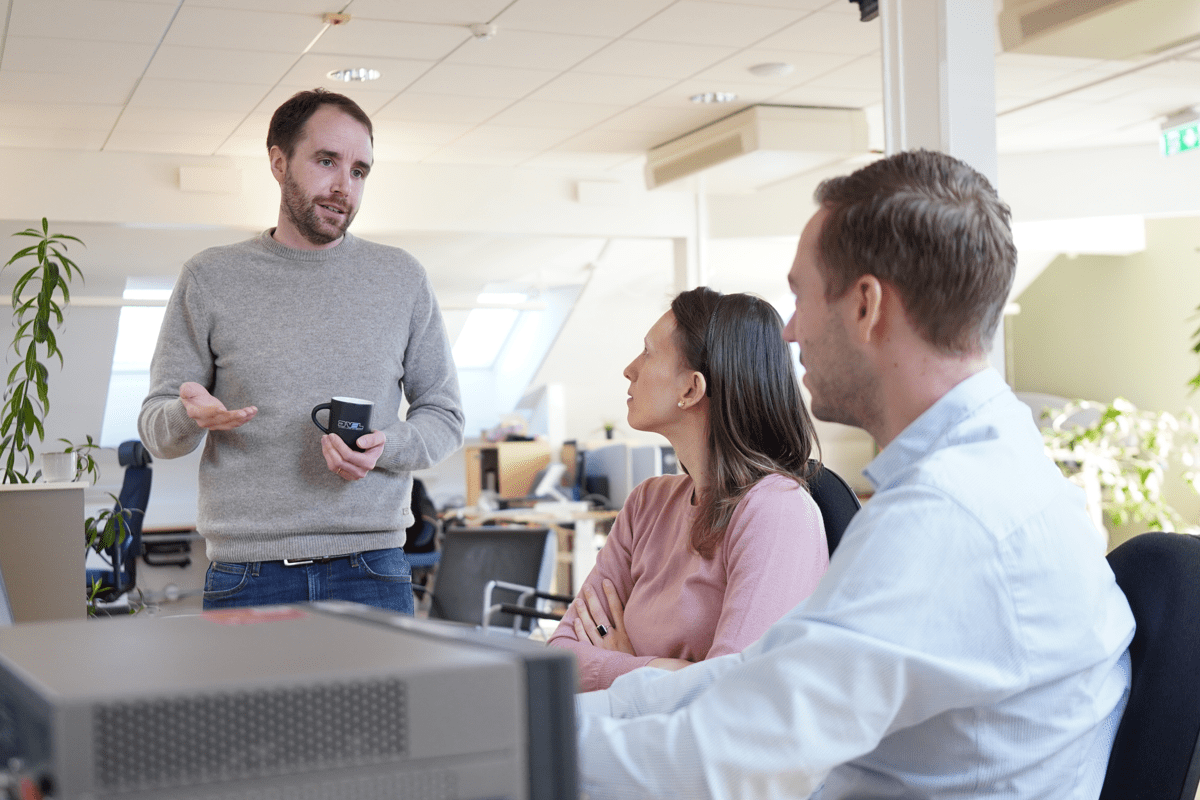 DVel is currently the foremost Test and Measurement specialists in southern Sweden. With our base at Ideon Science Park in Lund, we aim to grow continuously to reach a position as the leading specialists in test and measurement systems in Sweden.

We offer Test & Measurement systems and Consulting Services & Expertise. We are today 28 employees. Our ambition is to keep on growing.
Do you want to be part of our team? We hope so!
Our vision
"Enable innovation by generating reliable insights"
Our offer
Leadership that makes you grow 💪🏼

Our managers always strive to give you the best opportunities to grow and ensure your well being. We are using 1-on-1s, individual coaching, and feedback to make this possible.

Variation that challenges you 🔀

We offer you the opportunity to gain technical skills and experience by working in varied roles. The projects you work on are challenging and often cover many technical fields.

Your opinion counts 💡

We always listen, and we act on many of our colleagues' opinions and ideas. We offer transparency regarding our company strategy and business development. Feedback is welcomed and highly appreciated.

Activities to build our team 🫱🏼‍🫲🏽

To build our team, we offer our employees educational and fun activities. Our foremost activity for this, "Wednesday meetings", goes far back in our history. We also support and encourage other activities initiated by our employees.
At DVel, I get to work with varied tasks and new technical challenges. With a management that trust my ability and judgment I am given great freedom in my work.

Vidar Johnsson

Consultant

I really like the environment at DVel! Everyone is open and supportive of each other. In addition, I get to hang out with so many smart people who are gathered in this amazing team!

Rebecka Elander

Consultant

The projects I get to work on are often technically challenging and in different industries. I appreciate the transparency that the management provides.

Niclas Fristedt

Consultant
About DVel
DVel was founded in 2012 by Riki Virc, Martin Peeker and Karin Hellqvist and the business started in the new year 2013. We grew out of a willingness to create a company with extremely knowledgeable consultants, giving the market a stable and skilled supplier of test and measurement systems.
Co-workers have been the focus from the outset, and we want everyone to feel satisfaction and added value by working for DVel.
We grew quickly from the start. Many highly experienced specialists joined us and shared their ideas about how they wanted DVel to be formed. We worked with our personal networks and built up a customer base that quickly gained confidence in our skills.
During spring 2013 we moved into premises along the canal in Malmö. After one year, we had grown to 8 people and became the leading LabVIEW experts of the Öresund region. Five years later, in spring 2018 we moved to the premises we have today at Ideon in Lund.
Already working at DVel?
Let's recruit together and find your next colleague.